Buying A New Home
Whether this is your first home or an investment property, we are here to make sure you have the information needed to make the right decisions, and our team of seasoned attorneys, lenders, and inspectors are ready to support you throughout the entire process.

We have a very structured step-by-step approach to keep you informed of the progress at all times and are very accessible and quick to respond. We truly advocate for our clients with strong negotiation skills and research. Our team takes ownership of every deal and earns your trust by treating you as we would like to be treated ourselves.


The Step-By-Step Process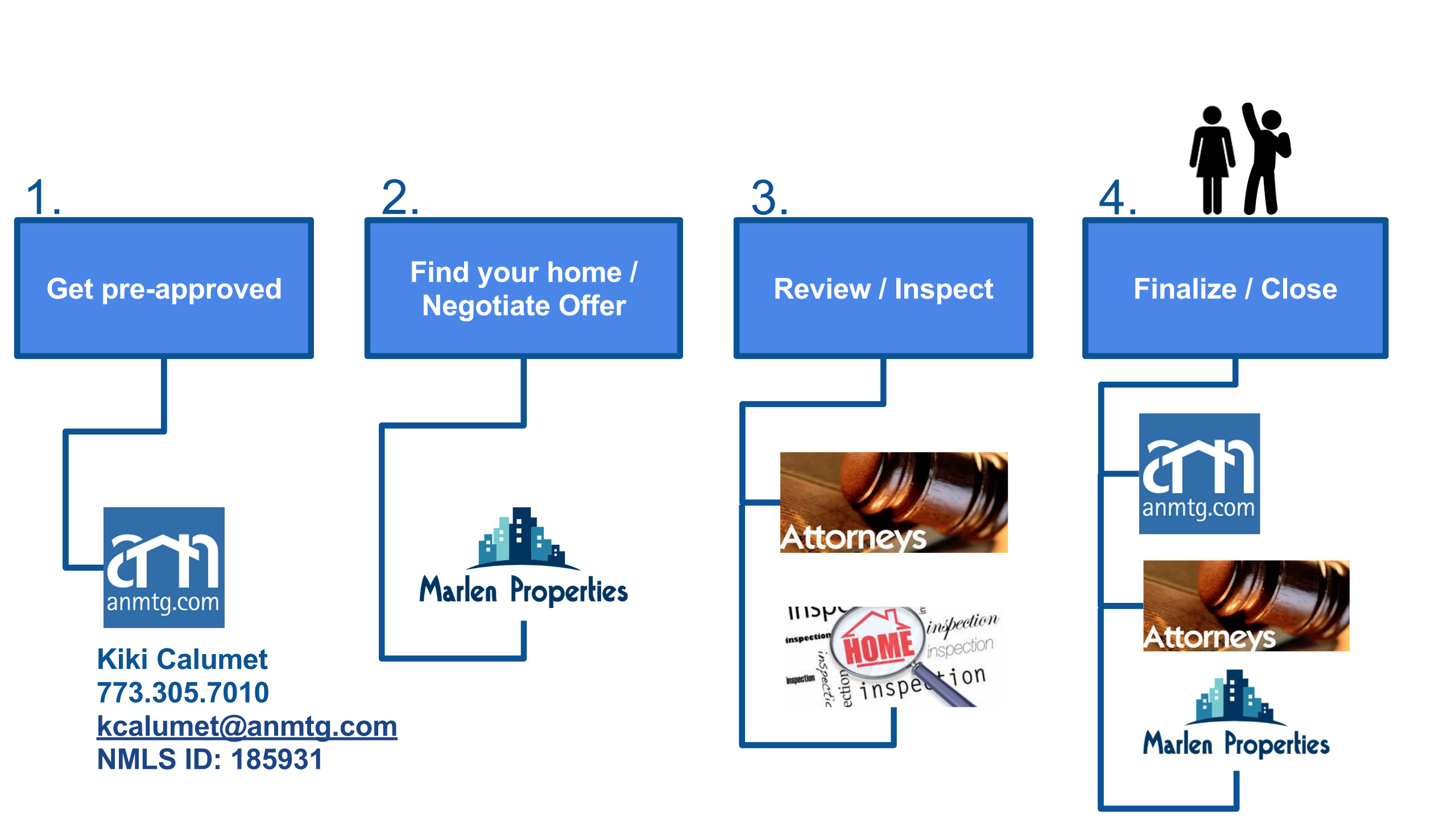 1. Get Pre-Approved (Length: 1 day)

A pre-approval is an essential step for getting a realistic budget for your search and a pre-requisite for making an offer (unless using cash for the entire purchase amount). Getting pre-approved entails talking to a lender and reviewing your income, debt, and credit score. You will then receive a letter stating your approved purchase, down payment and loan amounts. Kiki Calumet is our number one recommendation for her experience, speed, and competency. She works with 29 different lenders, has extremely competitive rates, and is very easy to work with.


2. Find Your Home/Negotiate Offer (Length: 1 week – several months)

You tell us what you are looking for (number of bedrooms and bathrooms, parking, laundry, etc.) and we will set you up with a customized search to find any properties that match your criteria. We'll take you on tours of the properties you are interested in and help you narrow it down to one. Then we'll write up an offer for you and help you negotiate with the seller to get a fair price. Once we've reached an agreeable price for both sides, you will then both sign the contract and move to the next step.


3. Attorney Review/Inspection (Length: 5 business days)

Upon both the seller and you (the buyer) signing the contract, you will have 5 business days to have an attorney review the contract, any riders or addendums, and the condo declaration and bylaws. Also, during this time you have the opportunity (highly recommended) to have an inspector come to the property to check the appliances, furnace, water heater, and electrical wiring in addition to other items, and let you know whether anything is in need of repair or replacement. If so, you can request the seller to credit or repair those items, as part of the ongoing negotiation process, but having an inspection report increases that probability.


4. Finalize/Close (Length: 30-40 days)

Once the attorney review and inspection period is over, your lender finalizes the mortgage to be ready for closing. They may need additional financial documents from you during this time, and your responsiveness and cooperation is essential to being able to close by the date in the contract. The actual closing will be held at a title office and takes around 2 – 3 hours. At that time, you will sign the remaining papers with your attorney and get the keys to your property. The very last step is to review us on Zillow and refer us to your friends so they can have a great home buying experience as well!